According to users, Titanfall 2 has been hacked, putting players' consoles and computers at risk of exploits and malicious code. While no official confirmation has been given, the franchise has a history of dealing with hackers.
Apex Legends was hacked in July by players who used the battle royale to spread concern about the fate of the first Titanfall game, which they claimed was plagued by its own hackers.
The Titanfall franchise's troubled state has been attributed in part to its developer, Respawn Interactive. Apex Legends, a free-to-play battle royale that saw a lot of success thanks to its use of distinct heroes, as seen in other popular multiplayer shooters like Overwatch, was released in 2019.
As Apex Legends grew in popularity, Respawn devoted more time and resources to it, and Titanfall and its sequel received less attention. Respawn Community Director Jason Garza revealed shortly after the aforementioned Apex Legends hack that Titanfall only has one or two people working on it.
Of course, this isn't to say that the Titanfall franchise is dead, or that the hack, if true, wouldn't be extremely dangerous. According to DualShockers, a warning about the hack first appeared in a Discord chat before being sent out by Titanfall Forever on Twitter.
The claims made in the warning are serious; players are advised not only to avoid playing the game but also to uninstall it completely, lest hackers gain access to whatever system the game is being played on via the admin panel.
This warning does not appear to have a source, but Respawn Entertainment has confirmed that it is aware of the reports and is looking into them.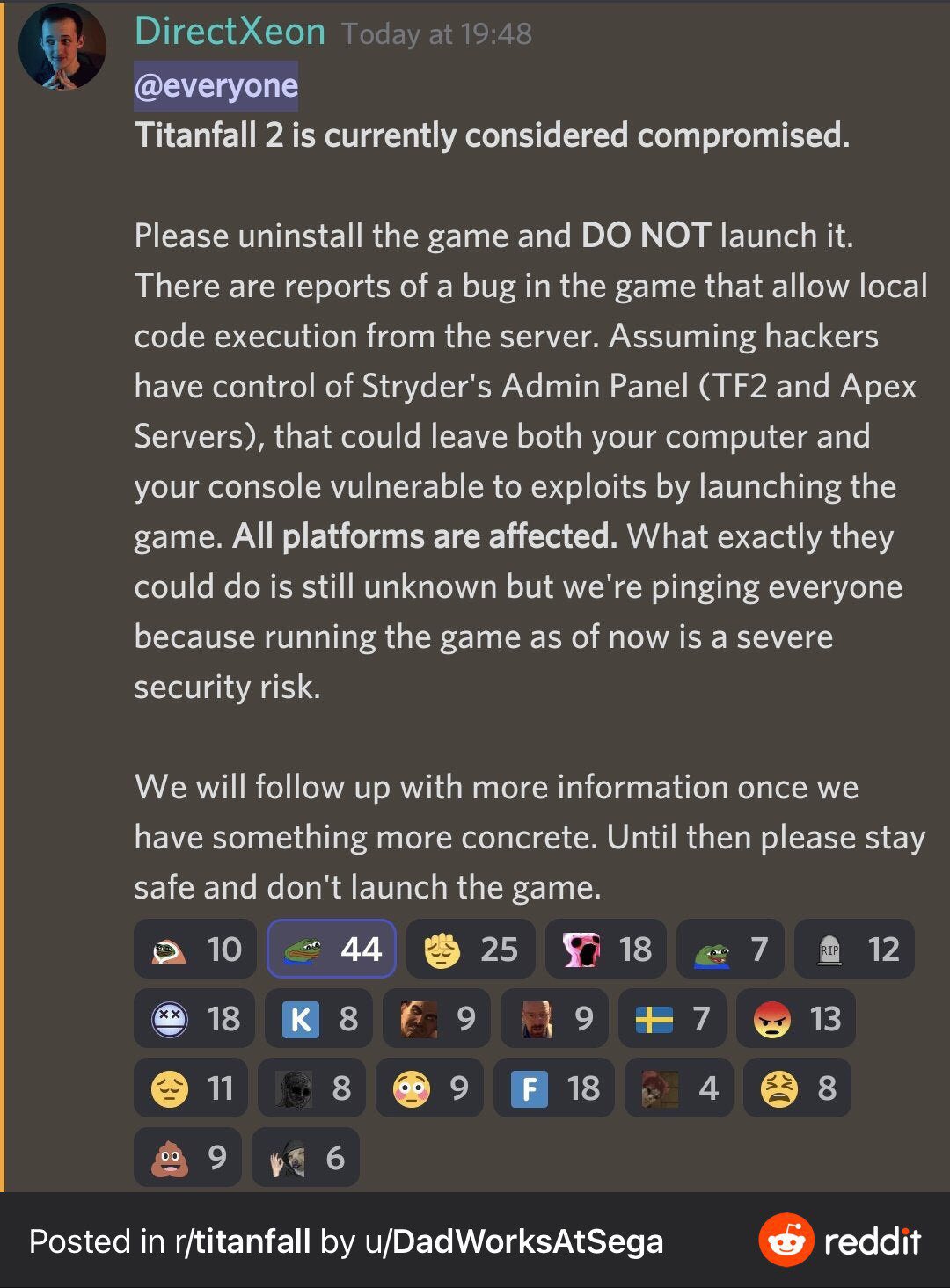 Many fans believe the reports are nothing more than a hoax pending the outcome of this investigation.
And some fans are angry about these statements too:
It's easy to dismiss the claims made by this Discord warning, but the fact remains that multiplayer games are vulnerable to hackers across the board. For example, hackers are so prevalent in the Call of Duty franchise that Activision is introducing a new type of anti-cheat software for Warzone and the upcoming Vanguard.
It will take time to see if this new technology can help Warzone's cheater problem, which has resulted in ban waves affecting thousands of accounts at a time.
While the security flaw affecting Titanfall 2 is a little more serious than aimbots and invincibility hacks, they both point to a widespread problem in the online gaming community.
What will become of Respawn's investigation, as well as the fate of the Titanfall 2 community five years after its initial release, remains to be seen. Titanfall 2 broke its own concurrent player record earlier this year after a highly successful free weekend, despite the fact that it doesn't appear to be Respawn's top priority.
Players who joined during that time are unlikely to want the game to be shut down by hackers, whether they are fraudulent or not.